Nassos Daphnis - Art
Νάσσος Δάφνης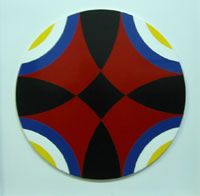 PX-9-69, 1969
enamel on plexiglass, 30 x 30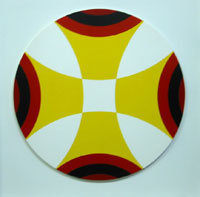 PX-18-69, 1969
enamel on plexiglass, 30 x 30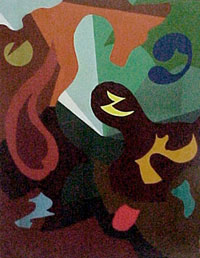 Click on image to enlarge
Garden Des Secrets
1950
Oil on canvas
45.5 x 35.5 inches
Anita Shapolsky Gallery, New York
http://www.anitashapolskygallery.com/daphnis.html
---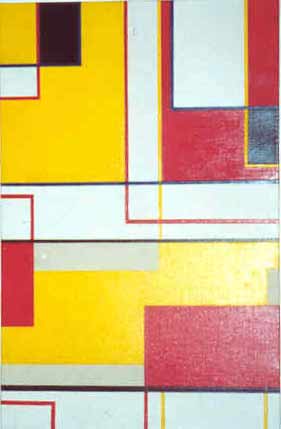 About NASSOS DAPHNIS -Nassos Daphnis first went through a period of biomorphic abstraction before approaching hard- edged geometry. In the Fifties he developed his "Color Plane" theory in which each color has its own range of position in space.
http://www.asartfoundation.org/nassos.htm
Shows+ Galleries
"http://www.artincontext.org/artist/d/nassos_daphnis/"
- Catalogued Exhibitions
2000-01 Art For Art's Sake - Credo of the50' "http://www.artincontext.org/new_york/anita_shapolsky_gallery/",
152 East 65th Street, New York, New York 10021
1999-2000 Artists of the Fifties - Still Working!
152 East 65th Street, New York, New York 10021
Modern Odysseys
New York City Building, Corona Park Flushing Meadows, Queens, New York 11368
1998-99 The Abstract Expressionist Tradition 152 East 65th Street, New York, New York 10021
1950-2000 Abstract A selection of 70 paintings from the Jan Verhoeven Collection.
Hoogstraat 41, 4285 Woudrichem, The Netherlands
1997-98 Forty Years of Exploration and Innovation: The Artists of the Castelli Gallery 1957 - 1997
Part Two. Saturday, November 22, 1997 - Saturday, December 13, 1997
420 West Broadway, New York, New York 10012
Special Collection
1996-97 Artists of the 1950's
152 East 65th Street, New York, New York 10021
1995-96 The Fifties
99 Spring Street, New York, New York 10012
"http://www.artincontext.org/artist/d/nassos_daphnis/"
Energies in Outer Space
Saturday, October 14, 1995 - Saturday, November 4, 1995
"http://www.artincontext.org/new_york/leo_castelli_gallery_soho/", 420 West Broadway, New York, New York 10012
---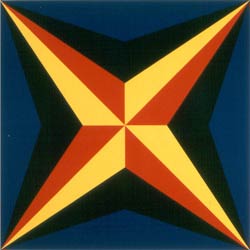 Nassos Daphnis
#15, 1974-75
Epoxy on canvas
60 x 60"
http://www.eatonart.net/art_daphnis.html

---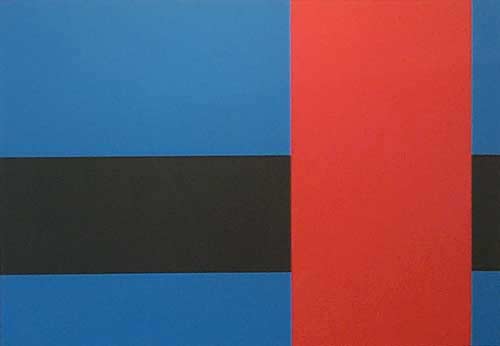 http://www.conceptgallery.com/auctions.htm
---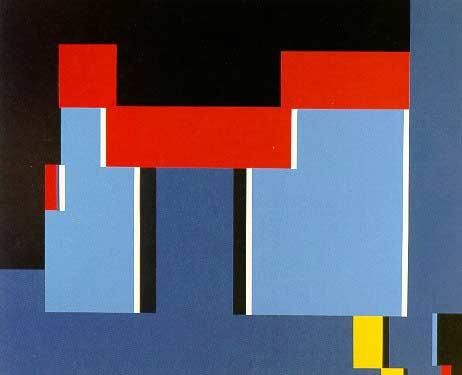 NASSOS DAPHNIS b. 1914

Palace in Minos, 1988
Enamel on canvas, 75 x 90" (190.50 x 228.60 cm.)
Unsigned
Gift of Alexander and Helen Avlonitis, 994-0-101

A though Nassos Daphnis associated with the most influential painters on the American scene during his developmental years, he was never identified with a school or trend. During the 1940s and early 1950s, Balcomb Greene's American Abstract Artists, Fritz Glarner, Ilya Bolotowski, John Ferren and others, were formulating their theories of geometric abstraction. In style and approach, Daphnis's work, characteristically similar, was substantively different. The artists of the New York School, Jackson Pollock, Franz Kline, and Willem de Kooning, although friends, were not professional allies. The emotionally fired Abstract Expressionism with its spontaneity and seemingly unbridled technique was as foreign to Daphnis as academic art, which he also rejected as shallow and commercial.
Born in Krokeia, Greece, near Sparta, at age sixteen Daphnis departed for America from Athens, where for the first time he experienced the art of classical Greece and fell under the spell of the perfection and pure geometry of the Parthenon, a unique moment that would remain as a source of inspiration throughout his life. Once in the United States, his early success as a Surrealist painter was interrupted by service in World War II. The Post-War era brought about a biomorphic phase which appeared as a natural outgrowth of his Surrealist period. These works, such as 3-F-51 (1951, The Butler institute of American Art), were purely abstract and predicted the hard-edged surfaces, orderly composition, and exploration of color that would become the essence of Daphnis's work Like the
Dutch painter Piet Mondrian, who found strength in the use of primary colors, Daphnis admires pure red, yellow, and blue for the energy which they seemed to intrinsically convey, and he focuses on color as a principal element. His color plane theory, though based upon exhaustive perceptual investigations, possessed strong spiritual implications as well.
In 1988, a trip to Crete inspired the Aegean Series, a return to the geometry of the square and rectangle. Clearly the architecture and setting of Crete provided the organizational framework as well as inspiring the character of line, shape, and color within this group of paintings. The series underscores the consistent technical facility of Daphnis, who pioneered a masking technique for which he has long been identified. Palace in Minos, a key painting from the series, employs his color plane theory in structuring a strong architectural space. The dominant black presses forward much like a great protective roof as vertical white lines visually separate color areas and support and balance the uppermost color masses. The painting's architectonic construction and organizational complexity recalls the Cretan Palace of Minos, a maze which is vast and intricate in design and constructed with no preconceived plan. The artist refers to the mythological thread, which can lead one out of the maze, seen in the small yellow area, and further suggests that the colors black and yellow possess dynamic visual qualities to similarly connect and assist other visual elements in the work.
LOUIS A. ZONA
http://www.butlerart.com/pc_book/images/Nassos_Daphnis.jpg

---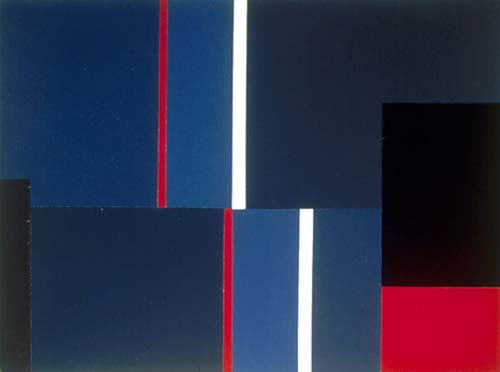 Nassos Daphnis
Aegean Series 6-A-92
1992
Enamel on canvas
18 x 24 inches
Anita Shapolsky Gallery, New York
http://www.artincontext.org/LISTINGS/IMAGES/FULL/Z/48Q7QIAZ.htm
---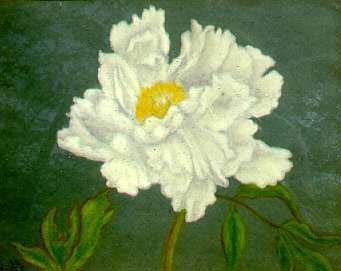 Nassos Daphnis: "Tree Peony", Pastel, 1941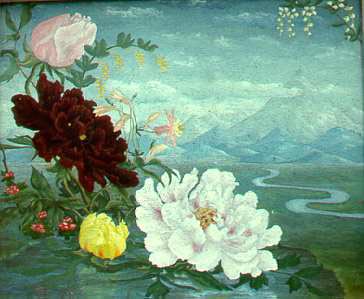 Nassos Daphnis:"Tree Peonies", Oil on Masonite, 1941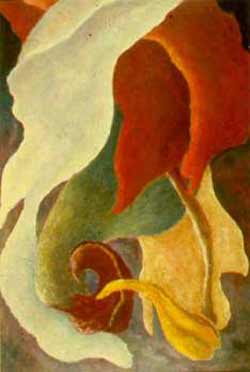 Nassos Daphnis: "Hybrizidation", Oil on Masonite, 1947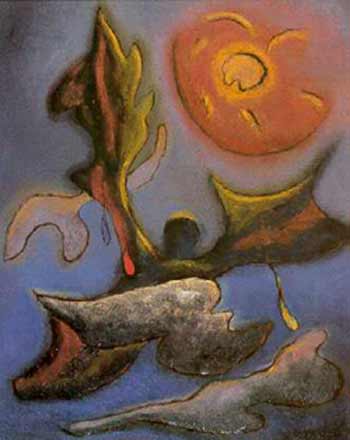 Nassos Daphnis: "Icarus", Oil on Masonit, 1948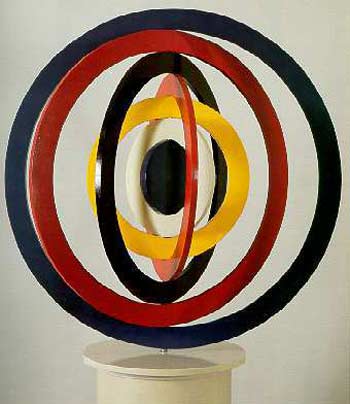 Nassos Daphnis: "Sphere", 12-68, Expoxy on novaply, 1968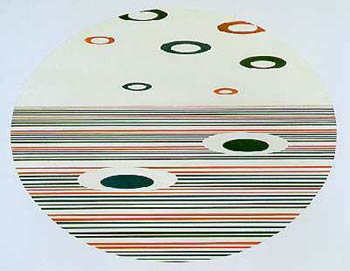 Nassos Daphnis: "Energies in Outer Space", 1995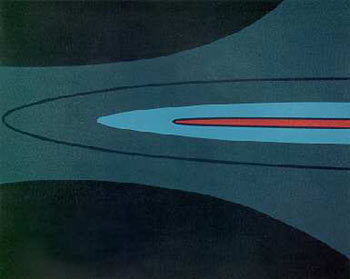 Nassos Daphnis: "Matter in Outer Space", 1995

http://www.paeonia.ch/zuechtere/MALERE.HTM

---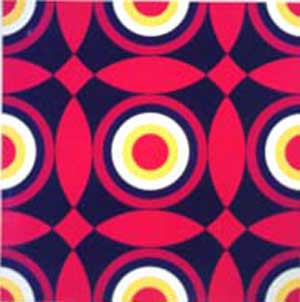 http://www.outercapeartauctions.net/images/auction8pics/tcatcoweb/daphnis3.jpg
---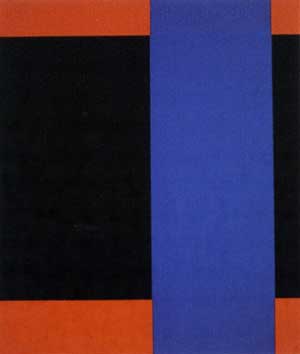 Nassos Daphnis: 26-58, 1958
Magna on canvas, 66 x 58"
Leo Castelli Collection
http://www.artopos.org/artists/daphnis/od-intro-en.html

---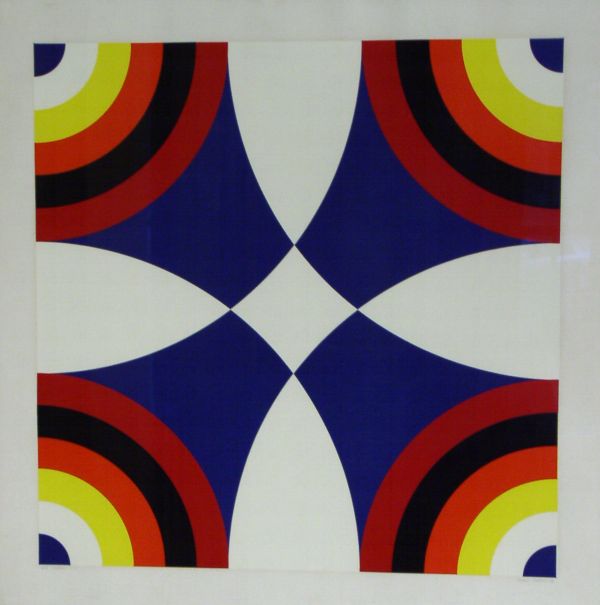 Nassos Daphnis Signed and Numbered 1973 Abstract Print
Hard to find large signed, dated 1973 and numbered print by well known Greek born (1914) American artist Nassos Daphnis. This bold strong geometric pattern is typical of the style that he is known for.
Condition Report: Very good
Dimensions: 31-ins by 31-ins framed size (colored print section is 25-ins by 25-ins) $330
from >>> http://www.modcats.com/item.php?item=365&from=newarrivals.php
---




Home
|
Society
|
Town
|
Krokeans
|
Vrettakos